Crusoe Fishing - Nevagivup 34' на данный момент не принимает заказы на FishingBooker. Не переживайте, у нас есть отличные альтернативы!
Crusoe Fishing - Nevagivup 34'
Crusoe Fishing runs game fishing trips on the waters of Vanuatu. Here, you will find a variety of Marlins, Tuna, Sailfish, and Mahi Mahi. The big game is what these trips are all about, whether you're a novice fisherman, or a seasoned angler.
The crew has two boats, so if you can't find a spot on this vessel, just scroll down and click on the captain's name. There you will see available dates on his other offshore sport fishing boat.
In the meantime, let's talk about Nevagiveup. Nevagivup is a 34' Blackwatch and is usually skippered by Captain Charles Wheeler. Captain Charles has been in Vanuatu for 17 years, having previously fished worldwide. He holds five world records and over 50 Vanuatu records in game fishing. He knows what it takes, and will help you get your dream catch.
The boat is powered by a 315 HP Cummins engines, with a maximum cruising speed of 17 knots. She can take up to six anglers. The boat is equipped with navigational electronics, and has tuna tubes, outriggers, a fighting chair, and a flybridge. Travelers will find a kitchen, toilet, and bed, along all the fishing gear.
Nevagivup specialises in light line and fly but covers all aspects from trolling to live and dead bait fishing, popping and jigging. You will encounter Blue Marlin, Black Marlin (Apr - Sep), Striped Marlin (Jun - Nov), Sailfish, Mahi Mahi, Wahoo, and Yellowfin Tuna.
Nevagivup has a full range of Furuno electronics and Shimano tackle in all line classes from 130lb down and a range of tackle for popping and jigging with Shimano Saratogas 20,000 and 25,000.
Pack sunblock, a cap, sunglasses, bring along comfortable clothes and footwear. On shorter trips, the crew will serve soft drinks, water, and snacks, and you will have lunch and a light breakfast on a full day trip. You don't need a fishing permit, but you should definitely bring a camera. Book a date, and go get that big one!
---
Лицензия на рыбалку

Наживка

За вами заедут

Чистка и разделка рыбы на филе

Напитки

Туалет

Доступно для детей

Холодильная камера

Удочка, катушка и снасти

Рыболовный стул/кресло

Еда (Обед & Закуски)
---
FAQ о Crusoe Fishing - Nevagivup 34'
Капитан/гид
Charles Wheeler
Порт-Вила, Вануату
Captain Charles has been fishing the waters of Vanuatu for the past 18 years. He loves fishing for Marlin, and enjoys all fishing styles. Still, light line and fly fishing for Billfish, live baiting inshore and around FADs are special for him. Capt. Charles has fished around numerous fisheries the world over. He and his team will do their best to make sure you have a memorable day on the water.
О публикации
Можно поймать
Корифена (махи-махи)
Чёрный марлин
Синий марлин (атлантический)
Полосатый марлин
Парусник
Черноперая акула
Копьеносец (короткорылый)
Рыба-меч
Гимносарда (зубастый тунец)
Малый тунец (полосатый)
Тунец (желтоперый)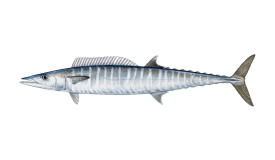 Ваху (колючая пеламида)
Спецификации судна
Blackwatch (Offshore sport fishing) построена в 1998, обновлена в 2015. Мотор – 2 315 л.с. Cummins, максимальная крейсерская скорость – 17 узлов.
Виды рыбалки
Рыбалка у береговой линии
Удобства
Открытый мостик (флайбридж)
В тур включено
Чистка и разделка рыбы на филе
Обед
On Full day charters only
Политика отмены
Бесплатная отмена бронирования до 7 дней до поездки
Клиенты могут бесплатно отменить или изменить бронирование до 7 дней до даты поездки. Если поездка отменена или изменена позже (или в случае неявки), взимается 100% от суммы депозита.
Правила
Трансфер включен
Transfer from hotels or jetties in Порт-Вила to departure site is available and included in trip rates.
Улов остается у команды
Happy to fillet some fish for clients
Разрешено поймать и отпустить
Оплата
Бронируйте с депозитом 10%, оплатите остаток капитану
Когда капитан/гид подтвердит бронирование, FishingBooker зарезервирует средства на вашей кредитной карте (10%) в качестве депозита для гарантии бронирования.
Оставшуюся часть суммы необходимо оплатить капитану/гиду лично в день рыбалки или заранее. Способы оплаты:
Наличные
Visa
Mastercard
При оплате оставшейся суммы кредитной картой, взимается 4% комиссия.
Порт-Вила Календарь рыболова
Loading Fish Calendar!
Please Wait...