MV Pure Indulgence - Troppo Fishing на данный момент не принимает заказы на FishingBooker. Не переживайте, у нас есть отличные альтернативы!
MV Pure Indulgence - Troppo Fishing
Hop aboard for a thrilling angling adventure with Troppo Fishing and go after your biggest catch yet! Team up with Captain Gregory Hopping to explore the bountiful waters and exciting fishing that Samoa has to offer.
You will be fishing out of 'MV Pure Indulgence' – a beautiful 35' Bertram cruiser with the capacity to take out up to 10 passengers, though 6 anglers can cast their lines comfortably. There's a toilet on board, as well as a salon with a multimedia system for you to take a break from all the fishing action.
She's a lean sportfishing machine, reliable on the waves, and decked out with all the navigational and fishfinding gear you will need on your trip. There's a spacious cockpit perfect for when you need a lot of room to battle your big catch, a flybridge to stay on the lookout for the best fishing grounds, and quality rods, reels, and tackle you will use. For the colossal catch, there's a fighting chair to give you rapport and help you bring that bad boy in.
Capt. Gregory likes to tailor the trips to customers' preferences, so if there's a particular species you'd like to target or a fishing technique you'd like to try out, let him know, and he will make it happen. Speaking of the catch, you will be targeting a slew of different species, from Mahi Mahi, Giant Trevally, and Wahoo to Tuna, and agile Billfish like Blue Marlin, Spearfish, and Sailfish. You will get your catch cleaned and filleted after the trip, which means a scrumptious meal for dinner!
The trips with Troppo Fishing are all-inclusive, so food and drinks are provided, you just have to show up and enjoy. Bring your kids, bring your friends, and make the most of the great fishery Samoa has to offer!
---
Лицензия на рыбалку

Вы забираете улов

Чистка и разделка рыбы на филе

Напитки

Туалет

Доступно для детей

Холодильная камера

Удочка, катушка и снасти

Рыболовный стул/кресло

Еда (Обед & Закуски)
---
FAQ о MV Pure Indulgence - Troppo Fishing
Капитан/гид
Gregory Hopping
Апиа, Самоа
Captain Gregory Hopping has been fishing all over the world, but he fell in love with it while he was growing up in Sydney. When he discovered Samoa, after running charters in various countries, he decided to open a fishing business there, and he hasn't looked back since. He's a certified IGFA captain, a passionate conservationist, and a big proponent of Billfish catch-and-release.
О публикации
Можно поймать
Коралловый лосось
Корифена (махи-махи)
Чёрный марлин
Синий марлин (атлантический)
Парусник
Красный луциан (снэппер)
Летрин длиннорылый
Каранкс (гигантский)
Гимносарда (зубастый тунец)
Малый тунец (полосатый)
Тунец (желтоперый)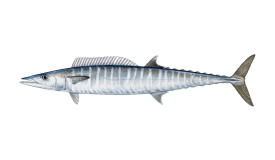 Ваху (колючая пеламида)
Спецификации судна
Bertram (Offshore sport fishing) построена в 1982, обновлена в 2010. Мотор – 2 315 л.с. Yanmah 6LP STP 2, максимальная крейсерская скорость – 20 узлов.
Кол-во человек
10 человек
Удобства
Открытый мостик (флайбридж)
В тур включено
Чистка и разделка рыбы на филе
Напитки
Soft drinks & water
Политика отмены
Бесплатная отмена бронирования до 7 дней до поездки
Клиенты могут бесплатно отменить или изменить бронирование до 7 дней до даты поездки. Если поездка отменена или изменена позже (или в случае неявки), взимается 100% от суммы депозита.
Правила
Трансфер не включен
Transfer to/from departure site is not included in trip rates.
Разрешено поймать и отпустить
Оплата
Бронируйте с депозитом 20%, оплатите остаток капитану
Когда капитан/гид подтвердит бронирование, FishingBooker зарезервирует средства на вашей кредитной карте (20%) в качестве депозита для гарантии бронирования.
Оставшуюся часть суммы необходимо оплатить капитану/гиду лично в день рыбалки или заранее. Способы оплаты:
Наличные
Банковский перевод